"It's Not About The Market … It's about what you do!"
By: Michael Krisa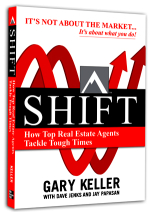 There is no shortage of real estate related training books that all claim to help and inspire you to greatness and riches … but every once in awhile something good does hit the streets.
I had the opportunity to spend some time with Jay Papasan; VP of Publishing for Keller Williams who co-authored with Gary Keller and Dave Jenks the book SHIFT – How Tough Agents Tackle Tough Times.
Let me quote the cover:
 "You can change your thinking, your actions, and ultimately, your results to get back in the game and ahead of the competition. The tactics that jump-start your business in tough times will power it forward in good times. No matter the market – SHIFT!"
I hope you enjoy the video below as Jay and I discuss the book and it's back story.
All Good Wishes,
michael krisa
That Interview Guy
The post "It's Not About The Market … It's about what you do!" appeared first on That Interview Guy.
More Real Estate Unplugged Articles
Going One On One With Mike Ferry
Years ago I have the honour of hosting/creating one of the first podcasts in the residential real estate space. It was literally a Who's Who of the top talent of our day, renown speakers,…
Discover How To Eliminate SKYPE Banner Ads
Hey SKYPE users – if you are on a PC discover an easy way to eliminate those annoying banners ads … once and for all! Be sure to share this with your friends … AND ……
Verl Workman – The 5 Key Factors of Social Media
Episode # 65: Verl Workman and michael krisa discuss 5 Key Factors to consider when engaging in Social Media. It seems that when it comes to the how's and wherefore's of social media …
"It's Not About The Market … It's about what you do!"
There is no shortage of real estate related training books that all claim to help and inspire you to greatness and riches … but every once in awhile something good does hit the streets. I had…
How To Save Yourself From The Sea Of Sameness
In today's extremely competive market consumers are bombarded by "sameness" – every agent looks the same, offers the same services … so how can you differentiate…